News
Pontville Blog 153: Bloggers meet football superstar
19 November 2021
There was a real buzz of excitement from the blogging team at Pontville School on Thursday 30th September.
The reason why? Liverpool FC's star defender and Dutch national team captain, Virgil van Dijk took some time to answer their questions ahead of the official opening of the 'Special Cruyff Courts,' developed in partnership by Johan Cruyff Foundation.
In this blog post, they share their experiences of meeting their superhero.
Grace kicks us off with her take on the event.
"Interviewing Virgil was an amazing experience I mean an actual Liverpool player in our school it was fantastic when I was told I couldn't believe it. When he actually arrived it was so crowded but I knew him when I saw him, Virgil was so tall he had to bend down to get through the door he was a GIANT. He was also so nice he let us take photos with him and I got three whole signatures and then we asked him some questions. I was one of the ones who asked him some questions in front of everyone else and I was pretty nervous, but afterwards I met with my friends and I was very glad I had the opportunity to meet him. "
Meisha gave her account: 
"When I was told about interviewing Virgil Van Dijk I felt exhilarated but nervous at the same time. It almost felt surreal that we were selected to interview and meet him, a world-class footballer. When it came to the actual day I got a rush of adrenaline and the nervous feeling went away. When he arrived it felt like everything went silent and all eyes were on him and at the point, I was just in utter shock that Virgil Van Dijk was stood in front of me! As I headed down to the hall I was just repeating in my head 'calm down Meisha calm down."
Jake summarised the meet up:
"Interviewing Virgil Van Dijk almost felt unreal as it was most likely a once-in-a-lifetime opportunity and it was an honor to be able to speak to him in person."
Charlotte reported:
"What I felt like when I met Virgil Van Dijk? Well, when we got told about it I felt so happy for the school and excited to meet him. To interview him on the day I was so, so nervous and excited - the night before I woke up 5 times. When I interviewed Virgil Van Dijk and asked him who the most famous person in his contacts was and he said it was Jürgen Klopp and then he 'FaceTimed' him. I was so ecstatic and happy and told all my friends and family. "
Johns said: 
"Before I went inside the room, the wait outside felt like an eternity, my palms were sweating and I was getting overly nervous. I read my line out aloud over and over again hoping I wouldn't mess up when it came time to meet him. When the door opened and I walked in I was star struck, me and Virgil Van Dijk in the same room! Whilst I was lost for words I was even more shocked when he said 'Hi John!' after introducing myself. My turn to ask a question came around and I asked him 'What was it like playing in a football stadium for the first time?' His answer was longer than I expected. He was looking me in the eyes the entire time, being so nervous all I could do was nod awkwardly and try to calm myself down. After the questions in the small conference room were asked I had my opportunity for a photo so I stood next to him in disbelief that I am literally inches away from a legend at my club that I support. In the hall all of the other students and family members were there, shortly as Virgil entered the room everybody erupted into applause. "
Our last installment comes from Justine Sims, Head Teacher: 
"The excitement around school leading up to the opening of the Cryuff Court by a world-class footballer felt magical. It was like Christmas every day leading up to the big day. There was a lot of planning and preparation that went into the day but it was so worthwhile. On the actual day it was very busy as there were lots of guests and important visitors to the school. I was showing the Niels Meijer CEO of the Cruyff Foundation outside when a disaster happened. For those of you who know me, I often wear a range of shoes which can include stilettos. These were my shoe of choice for the opening day but unfortunately, I got one of the heels of my shoes stuck down a drainage grate outside. Niels tried to help me get my shoe free but eventually, I had to take it off and yank it out – how embarrassing! In the meantime what I didn't realise was Virgil had already arrived and was with the Newsletter Team! How bad is my timing? However the event was amazing, the Newsletter Team interviewed Virgil brilliantly and the highlight for me was when Virgil Face Timed the most famous person on his phone Jurgen Klopp and he waved to us all in our Pontville hall! A day that we could only ever dream of and one that will say in my memories forever. "
Read more about the opening here.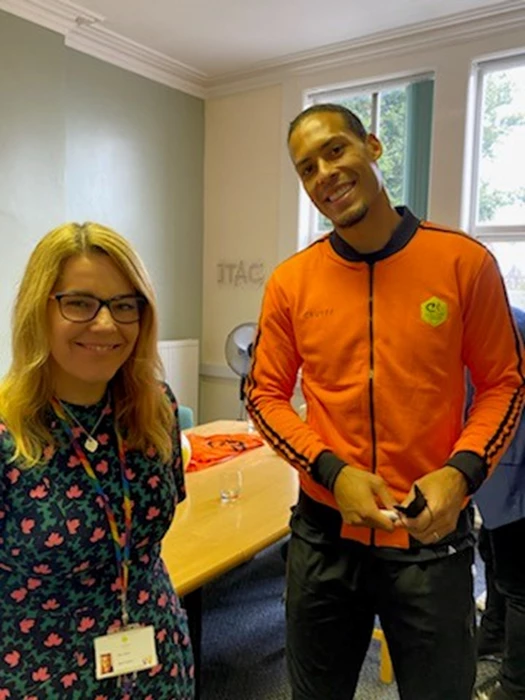 Head Teacher, Justine Sims and pupils from Pontville School get the opportunity to meet Virgil van Dijk