News
Pontville Blog 149: Celebrations all round
18 October 2021
There's no time to pause at Pontville School, where pupils and staff continue to enjoy adventures, learn and grow together.
Here is the weekly update, brought to you by the team.
Primary
Rachel Milligan, Teaching Assistant, kicks off with this week's update.
Ash 2 Class had a fantastic P.E lesson this week. To warm-up, the boys played 'What's the time, Mr Wolf?' where Thomas joined in with this game whilst wearing a mask that he made earlier in the week with Melissa.
The link between cells and pizzas
Maple 3 Class have been studying cells and organisms in science, learning the parts of the animal cell. The science team worked with the food technology department in a cross-curricular project to make "Pizza Cells" to reinforce this knowledge. The toppings on the pizzas represented the component of a basic animal cell - a large slice of ham or mozzarella representing the cell nucleus, cherry tomatoes as the cell mitochondria, cheese as the cytoplasm and the pizza crust the cell membrane. The pupils really enjoyed this project.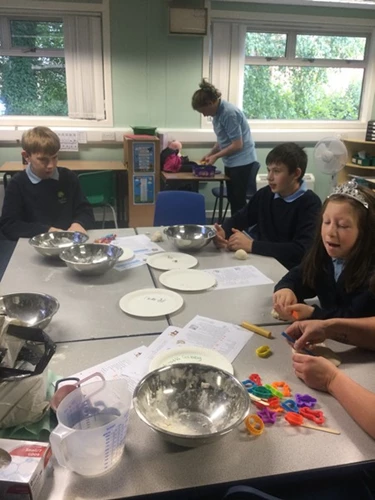 New experiences at work
Joy Green, Residential Support Worker and the residential team are proud of pupil Nathan, who continues to make great progress in his voluntary work at the YMCA shop in Ormskirk. He was delighted when he was asked if he would like training on how to use the cash register. He served his first customer and was confident in using the skills he'd been trained on by the Manager Dillon. Dillon said he's happy with Nathan's progress and is a pleasure to work with.
Cruyff Court and parent feedback
Pupil, Jo's mum, contacted the school after the official opening of the school's Cruyff Court. She emailed d to say:
'Can I please say a big thank you for all the hard work and lovely atmosphere and memories created for the celebration of the sports area this afternoon it was a tremendous event.'
Read all about the opening here.
Dragon's Den
Clare Newby, Teacher of Larch 3, shares what they have learning about the human skeleton and the different parts and names of bones. The pupils also had lots of fun during their sensory session making sea creatures from salt dough!
Pupils turned to taking on the role as entrepreneurs during a 'Dragon's Den' lesson we had for history. Pupil, James not only designed but made his invention and brought it in the next day.
Juniper Class update
Key Stage 4 teacher Hayley Bennett shared here her classes good news.
We have been looking at cells and using the microscopes in science. We all went out for a nature walk to feel the benefits of getting out in the sunshine, absorbing vitamin D for healthy bones and testing the effect of the sunshine on our moods and raising our serotonin level.
Hayley kindly received a super melon from a local greengrocer that was bigger than her torso. The class enjoyed eating watermelon, and while eating, the class discussed the idea of growing fruit on the school's farm.
The class is now working with instructor, Al Moore on a bug hotel. Pupil Kian will be Jules Dolan two days a week.
In café this week, we celebrate our community vibe by bringing together all of the bakes into one monster bake. We will produce a layered super-brownie. It will bring together different flavours which will be made by pupils cookie, caramel and Oreo and brownie. All of the layers will be sandwiched together into one team bake! There will be a slight price increase to reflect the current climate, and these bakes will be £1.
We also had a new pupil join us for science- Dennis, who showed us where the main organs were located.
Finally, Tie Dye prep for Mental Health Day was fun, and we all created t-shirts to wear.
16 to 19 update
Students at the 16-19 Centre have been doing a fantastic job fundraising.
Anna Sawyer, TA, shares the good news.
We had a fantastic Macmillan Coffee morning which was enjoyed students, their families and staff! We raised a very impressive £187.
Amelia had a great time with the horses and demonstrated great perseverance as she got stuck in with mucking them out, all in time for the sun to come out for her to actually ride!
This week, 5 Yew were full steam ahead with their film prep and planning. They picked up lots of great tips from guest speaker Jeremy O'neill!
5 Cedar have been making pizza in their life skills sessions this week, while 5 Hornbeam has launched their enterprising activities to raise funds for their group projects – Halloween party / robotic bin.
We also saw Naj practising his Halloween make up in activity time ahead of the big 16-19 Halloween party on October 22nd!
More fundraising
Pupils and staff raised an impressive £168 for Macmillian coffee morning.
What a busy week? Well done everyone.