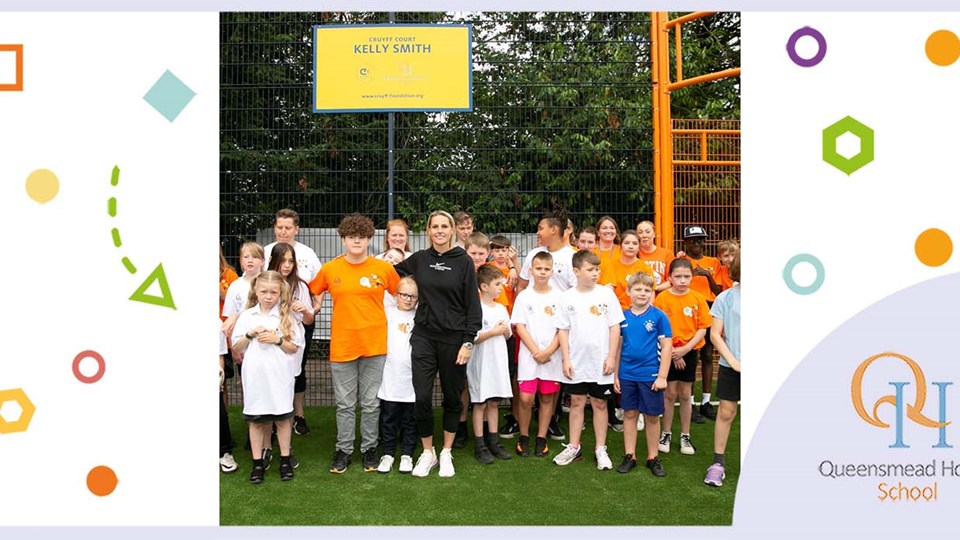 News
Kelly Smith unveils Cruyff Court
07 July 2022
Pupils, parents and staff from Queensmead House School welcomed former England and Arsenal legend Kelly Smith to officially open their 'Special Cruyff Court,' developed in partnership with the Johan Cruyff Foundation.
Held on the eve of the opening game of the UEFA Women's EUROs, the event was held as part of the Space to Shine campaign, which seeks to encourage girls and women to play at Cruyff Courts and practise sports. Also in attendance at the event, via video call, was Susila Cruyff, Cruyff Foundation board member and the daughter of Johan Cruyff. 
The opening of this Court is part of the special programme of events organised to mark the 25th anniversary of the Johan Cruyff Foundation and expand the charity's presence in the UK. 
During the course of the opening ceremony, a press conference took place on the pitch, where the school pupils were given the chance to ask Kelly questions before taking to the pitch to play in a football tournament.  The event also grabbed the headlines with coverage across Sky Sports, ITV and The Times.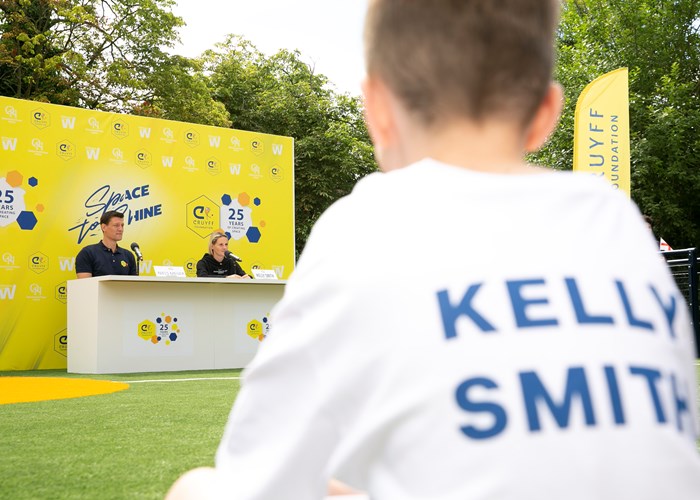 Kelly commented:
"I'm really honoured to have received this invitation from the Johan Cruyff Foundation to open a Special Cruyff Court that bears my name. It's very exciting to see how this new facility will help children to play sports in a space that encapsulates everything that is central to the values of sport: respect, integration and team spirit. It's really emotional and touching to be offering these children this opportunity."
For her part, Susila Cruyff added: 
"We at the Cruyff Foundation are really pleased to be opening this new safe space, which pays tribute to Kelly Smith, a true icon within women's football. She represents our mission in general but specifically can encourage girls and women to enjoy sports at Cruyff Courts or elsewhere. This is the message we want to share today, on the eve of the start of the Women's UEFA EURO football tournament, as we seek for women to occupy their rightful place in football. In our efforts to achieve that objective, we have to help them to fulfil their dreams from a very young age."
Richard Wilkins, Chief Operating Officer, commented:
"The official opening of the Cruyff Court at our Queensmead House School is yet another proud moment for us here at Witherslack Group. Working with the Cruyff Foundation has been hugely beneficial to us as we are able to offer world class facilities to our children and young people, where they can play and perfect their sporting skills while playing team sports to build their confidence and communication skills; skills that are transferable in the classroom and beyond."
Melissa Farnham, Executive Headteacher of the school said: 
"Team Queensmead had a wonderful day celebrating the opening of the Cruyff Court. We were thrilled to welcome Kelly Smith and it was great that the young people got to ask some great questions about her career and future endeavours. Our pupil, Sophie was able to save the first goal, knocked in by Kelly Smith herself – perhaps a future GB player? The energy was amazing and this was seen in several matches on the pitch."
Our Group is committed to continue to work with the Cruyff Foundation to create even more amazing courts, with courts already in place at 6 of our schools and two others in development. 
A big well done to everyone involved!