News
If you can do something good for someone else, you should!
14 April 2021
This blog was written by Geraint Richards, Special Cruyff Courts Project Manager, UK. He has been with the Cruyff Foundation for nearly three years while combining this work with a career in tennis coaching, helping ensure that anyone with a disability has access to tennis and sport.
If you can do something good for someone else, you should!
Johan Cruyff once famously said "Als je iets voor een ander kan doen, dan moet je dat doen" which roughly translates to 'if you can do something good for someone else, you should'.
This ethos led him to start the Cruyff Foundation in 1997, to give children, especially those with a disability the opportunity to achieve through sports and games.
His vision was to connect sports and children in creative ways, which he realised whilst he was in the United States, where he lived next door to a boy with Downs Syndrome. He noticed the boy wasn't allowed or able to play with the other children, so he made contact with the child and practiced football with him, until one day he joined the other children in playing the game, seeing how happy he was, Johan realised the unlimited power of sport, and its transformative effect on young lives.
This experience set in motion the creation of the Cruyff Foundation, dedicated to creating spaces for impactful sports and play areas for youngsters who can't normally access sports.2
25 years on, our mission hasn't changed. Nowadays Cruyff Courts are visited over 1,000,000 times per year for sports and exercise. At the moment there are 215 Cruyff Courts, 60 Special Cruyff Courts and 537 schools with a Schoolyard14, and about 300 practicing Cruyff Foundation Coaches, all over the world.
Our mission is now more relevant than ever as children are increasingly hiding behind screens, which means less exercise and outside play. Some children are led astray by the nature of their local area. To combat this, in 2022 as we celebrate our 25th birthday, we will continue to develop impactful projects around the world and here in the UK, to create spaces for disadvantaged young people. Space to grow. Space to make friends, and space to improve their health.
We're extremely proud to be partnering with Witherslack Group, the leading provider of SEN Education and Care in the UK. Through our collaboration, we have been able to launch 6 Special Cruyff Courts across their schools with several more planned to be launched.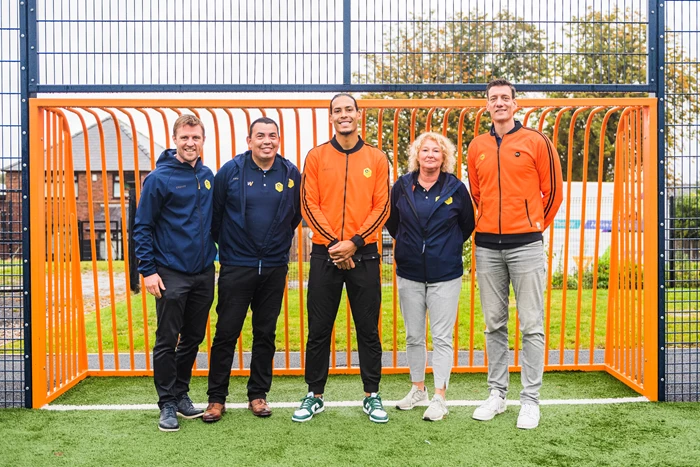 Geraint (second from the right) pictured alongside Virgil Van Dijk at the opening of a court at Pontville School
Witherslack Group help children and young people with special educational needs (SEN) realise their future potential, they do this by having the most well-resourced schools in the country, and having dedicated staff who never give up on a single child and we're extremely proud to work with them as one of our UK partners. We hope the courts enable children at their schools to flourish and grow through sports.
So far the reception from the children and young people has been phenomenal with all of the courts fully used during the day. Two of the courts at Witherslack Group even had an opening ceremony with Dutch superstars Virgil Van Dijk and Jackie Groenen.
If you're interested in finding out more about the Cruyff Foundation, and how we're creating spaces for young people, visit our website https://www.cruyff-foundation.org/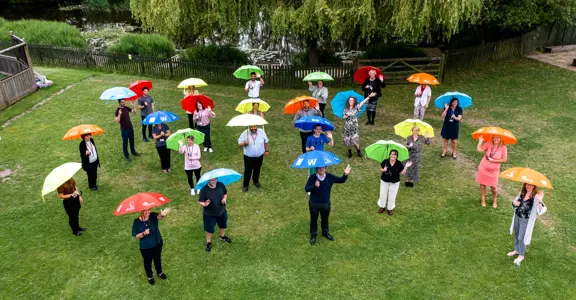 Transforming lives differently
Find out how our endless commitment is fuelling the limitless aspirations of our young people.
Transforming lives differently