News
Elliott celebrates winning national award
10 December 2021
We're delighted to announce that Elliott Deathridge, Capability Development Coach, has won the first 'Trainer of the Year' award by PRICE Training.
Since 1994, PRICE Training has developed a system rooted in trauma-informed practice and positive behaviour support that places human rights and the well-being of vulnerable people at the very heart of what they do. They help organisations develop strategies for both planned and unplanned interventions to ensure a safe workplace and improve the quality of life for service users. Ultimately, Price Training supports organisations to develop the right culture, knowledge-base, and skill set needed to keep those in need of support safe.
Elliott was selected from hundreds of other trainers from across the country and was one of seven finalists. He impressed the judges with his exceptional knowledge of PRICE training's values and techniques; it was also noted that his commitment shone through. 
Since joining the Group Elliot has shaped a lead role in the delivery of PRICE training to new staff, as well as offering quality refresher programmes for established teams. Continually he has received fantastic feedback regarding the quality of his training, as well as the advice he gives to individuals and settings alike.
An extremely happy Elliott commented:
I am overwhelmed with gratitude to have been nominated and then win the award for PRICE Trainer of the Year. I am so grateful to have my work and efforts recognised in this way. I am very passionate about the work that I do and since joining Witherslack Group, I have been extremely fortunate to be surrounded by professional and inspiring colleagues that have allowed me to flourish. I will continue to work hard in this field and provide the best outcomes for everyone. Thank you.
Richard Wilkins, Quality Assurance Director commented: 
PRICE Trainer of the year! This is a fantastic achievement and well deserved. This award is a recognition of all the hard work, dedication and professionalism. Elliot is a great ambassador for the Group and one that consistently exudes all our core values. Well done once again.
Marie Leadbetter, Head of Learning and Development beamed:
Elliott hit the ground running when he started just over a year ago and hasn't looked back – this is a real reward for all of his hard work and commitment, and we are really proud to have him as a member of our team!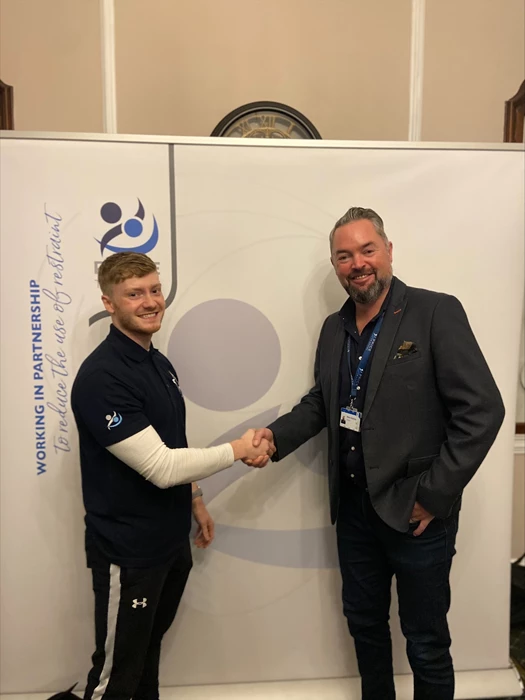 Elliott receives well-deserved award