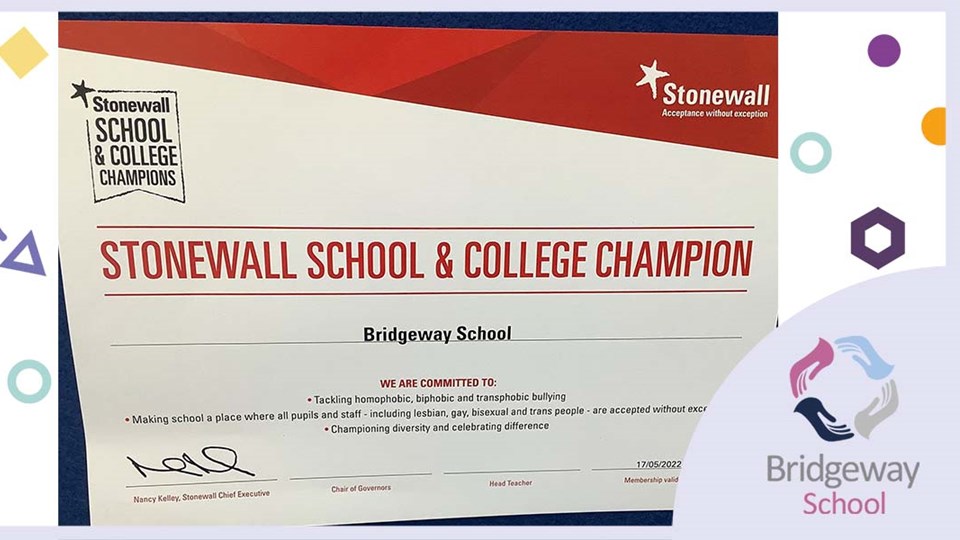 News
Bridgeway School Blog 22: Award celebrates diversity
20 August 2021
Pupils and staff from Bridgeway School are thrilled to announce that they are Stonewall School Champions.
Stonewall stands for lesbian, gay, bi, trans, queer, questioning, and ace (LGBTQ+) people everywhere. The sector-leading programme, developed by their expert Education & Youth Team, allows schools to benchmark their LGBTQ+ inclusion against the latest best practice.
The award means that Bridgeway is leading the way in celebrating diversity and supporting LGBTQ+ children and young people to fulfil their potential. 
The school is committed to: 
Tackling homophobic, biphobic, and transphobic bullying
Making school a place where all pupils and staff – including lesbian, gay, bisexual, and trans people – are accepted without exception
Championing diversity and celebrating difference
The school's assemblies have contributed to the success of building awareness. Topics covered so far have included: World Environment Day, protected characteristics of age, gender stereotypes, and gender reassignment, World Music Day, and Children's Art Week.  
Deputy Head Teacher, Daniel Flanagan commented:
Our assemblies are a great way of engaging pupils with current affairs, expanding their knowledge of the world around them.
Well done everyone.