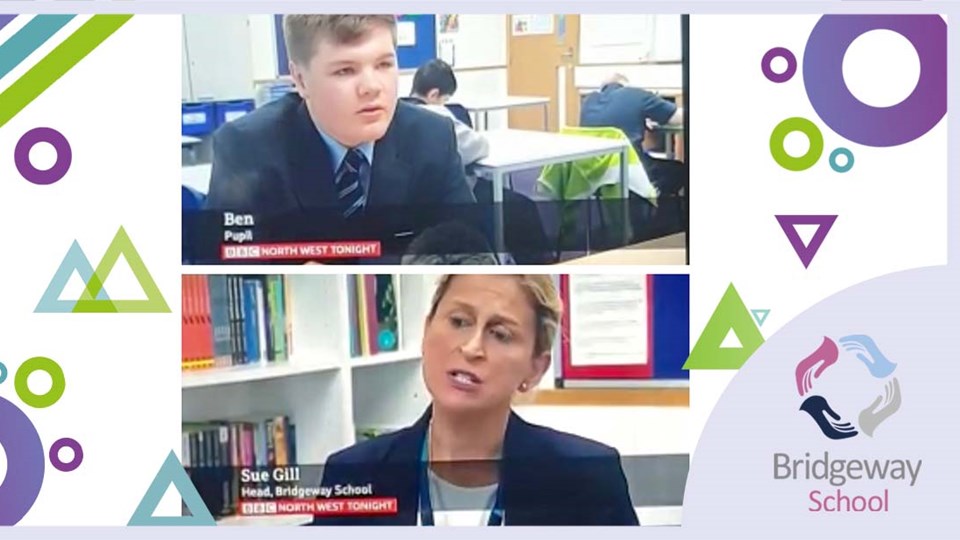 News
Bridgeway's TV debut
11 September 2020
Last week Bridgeway School were thrilled to welcome the news crew from BBC North West Tonight.
The school was chosen as a shining example of how pupils and staff continued with their new routines while accessing their full timetable in the last academic year.
Joined by Dave Guest, Chief Social Affairs correspondent and a film crew who were eager to learn about how the thermal imaging cameras worked – they too were screened and saw it in action. After interviewing Head Teacher, Sue Gill,  to gain a more thorough insight into the application of the safety measures and other strategies to ease the anxiety of the pupils, they filmed them in action. They took the opportunity to film their sports day, lessons and had a chat with pupil,  Ben, one of the year 11 pupils who was asked how he felt about the school's safety measures.
There was a real buzz around the school about the opportunity and Sue proudly commented:
"As a school, we felt honoured to be asked to take part in the news report. It is a testament to how we have all pulled through the last six months as a team; not just the staff but pupils have been fantastic as they have been adapting to the changes around the school while continuing to focus on their educational and social development".