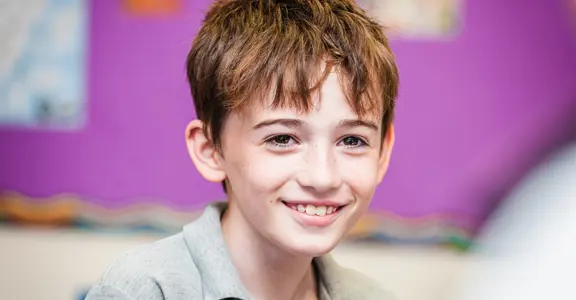 Therapeutic Approach
Integrated across every area of our work
Our Therapeutic Practice Model
Our therapeutic model aims to support children and young people to live healthy and happy lives, establish meaningful relationships and achieve their full potential. We recognise that when a child actually feels safe living and learning with us, they will be able to begin to explore the possibility of developing new connections and relationships. These are the foundations from which they will develop the ability to regulate and understand their emotions, and the capacity to access opportunities for learning and further development.
Download our full Therapeutic Practice Model here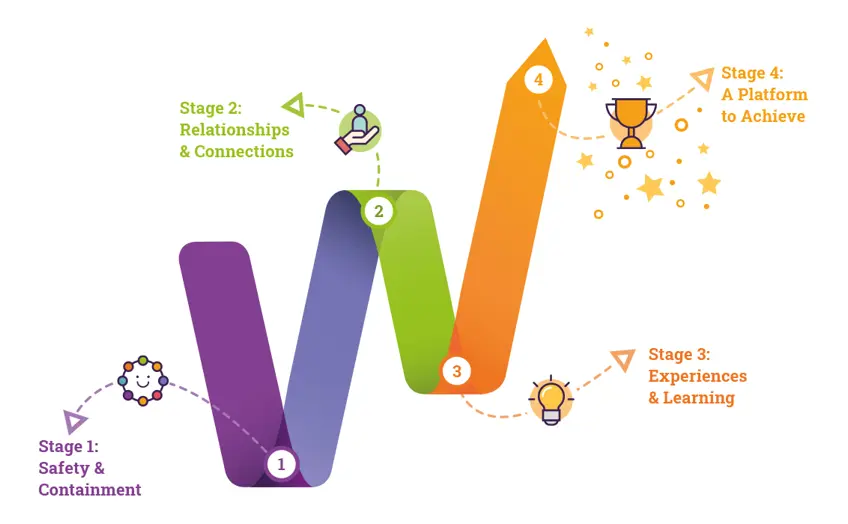 Stage 1
Safety & Containment
Our first therapeutic focus with all our children and young people is to re-establish or indeed establish a feeling of physical & emotional safety and containment. 

Stage 2
Relationships and Connections
Once Stage 1 is achieved and the child feels a sense of stability, safety and support our therapeutic focus moves to the development of engagement, connections and relationships with others

Stage 3:
Experiences and Learning
Now that we have built stronger relationships and levels of trust, our children & young people will be able to begin to engage in new therapeutic experiences and learning opportunities.

Stage 4:
A Platform to Achieve
This unique approach to supporting young people provides them with the platform to achieve uniquely outstanding outcomes, which in turn enables each young person to go on to realise a future filled with aspiration and achievement.
Our Three Waves Model
This holistic therapeutic support and intervention service provided by our multi-disciplinary team can be mapped onto the Withersack Group's Three Waves Model.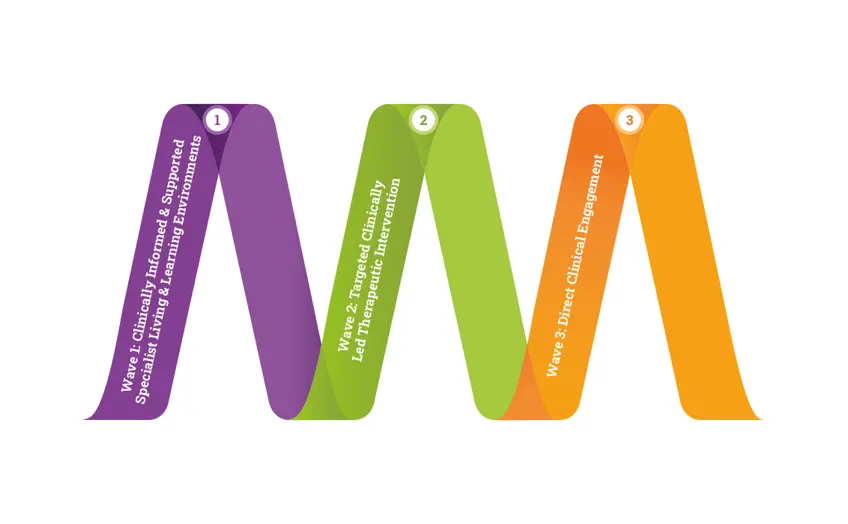 Wave 1
Clinically informed & Supported Specialist Living & Learning Environment
• Therapeutic Milieu
• Whole school/home developments and focus
• Curriculum adaptations and class initiatives
• Staff training
• Integrated Team Around the Child meetings
• Generic parental advice and guidance
Wave 2
Targeted Clinically Led Therapeutic Intervention
• Clinically supervised keywork sessions
• Clinically developed and monitored targeted programmes
• Targeted small group work
• Targeted parental engagement
• Child/young person specific training sessions
• Child focus and reflective practice meetings
Personalised therapeutic support
The presence of the Clinical Services Team enables staff in our schools and children's home to provide personalised programmes to enable children and young people to overcome barriers as they understand themselves better. 
Press play to watch our staff explain how we support our children and young people through our therapeutic support. 
Our Approach
Click on the sections below to get to know more about our approach in caring for our children and young people.
Interested in one of our schools?
We'd love to speak with you!
Whether you are interested in your child attending one of our schools or just want to know what help is available or where to start, contact our team.