News
Who is the queen of Pontville?
25 November 2022
Pupils from Pontville School recently enjoyed a variety of activities, including the re-launch of the 16-19 Centre's Snack Shack to trialling standing desks and some quiet reading time with Matte the dog.
Snack Shack relaunched
Recently, the 16-19 students relaunched their Snack Shack with their very own 'Queen of Pontville' also known as Head Teacher, Justin Sims to cut the red ribbon and declare it open.
With the help of staff, they worked incredibly hard to brighten up the shack, alongside carrying out market research to find out what students wanted in their tuck shop. They also completed weekly stock counts and sales ledgers to ensure they are operating efficiently and profitably.  
This has been an invaluable experience to students as it counts towards both their City & Guilds in Employability Skills and Retail Skills.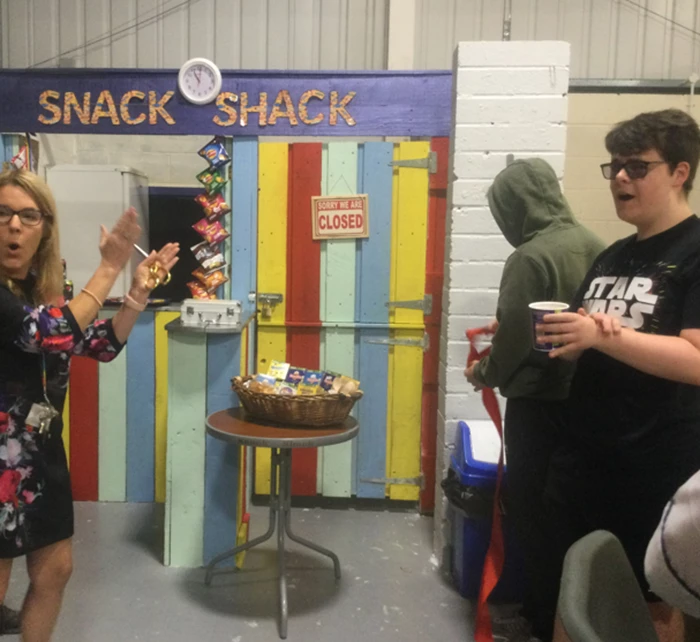 Desk trials 
A group of pupils from Fir and Aspen Classes, along with Head Teacher, Justine Sims, have recently been trialling standing desks.  The general purpose of these desks is to improve posture, although some pupils have found it helpful with their concentration too.  Here they share some of their comments:
Pupil, Ethan
"It is really nice and I don't have to sit which helps my legs. It gives me more space."
Pupil, Noah   
"I love it.  It is really good.   It is something I can't explain."
Head Teacher, Justine Sims 
"I find it really difficult sitting still and the standing desk helps my posture and my ability to move whilst working." 
Reading with Matte
Pupils enjoyed a little quiet time reading with Matte the dog. They found the session to be useful, and even Matte enjoyed it too!