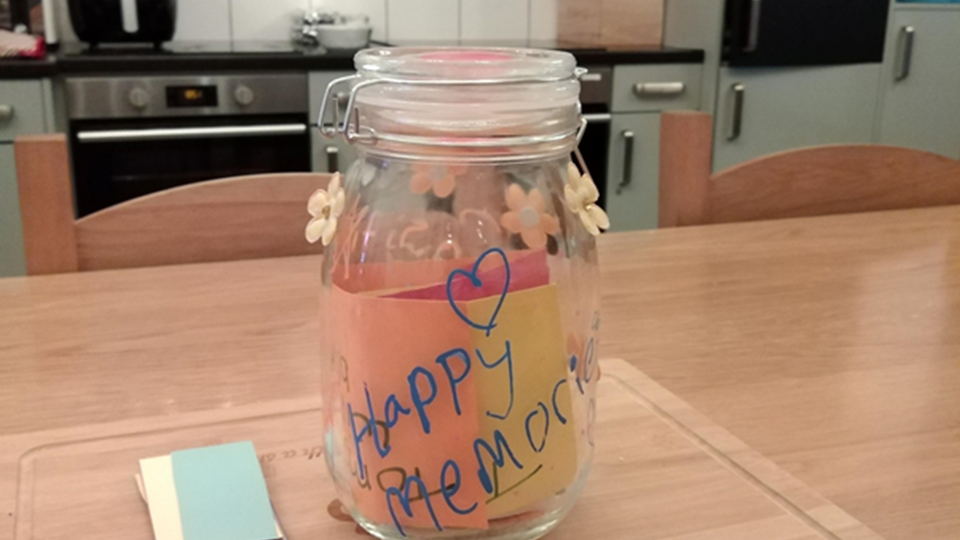 News
Pontville Blog 143: Moments of magic
11 February 2021
There's always something to celebrate at Pontville School, and this week, pupils and staff share moments of magic that have everyone beaming with pride.
Last week, pupils and staff from Pontville School celebrated Children's Mental Health Week by taking part in activities organised by our therapists, including:
Mindful Monday – mindfulness is a great way to help develop strong self-esteem and creativity. 
Sharing talent Tuesday – designing personalised handprints
Wellbeing Wednesday – eight Ways to Boost Wellbeing
Physical activity:  Exercise is essential for everyone, especially children.
Technology time:  There is so much technology available to children     nowadays, it is important to limit the time children spend having           screen time.
Foster positive relationships. Connect with other people. Good               relationships are important for your mental wellbeing
Sleep
Build resilience
Learn new skills
Pay attention to the present moment (mindfulness)
Healthy Diet 
Thoughtful Thursday – creating a time capsule
Express yourself Friday – dress up and express yourself wearing wonderful outfits.
Elsewhere, the residents of Oakwood took part in activities to celebrate too. They made a positive thought jar, handprints, and wrote sayings from Sir Tom Moore. They also had fun making balloon bubble sensory toys for each other.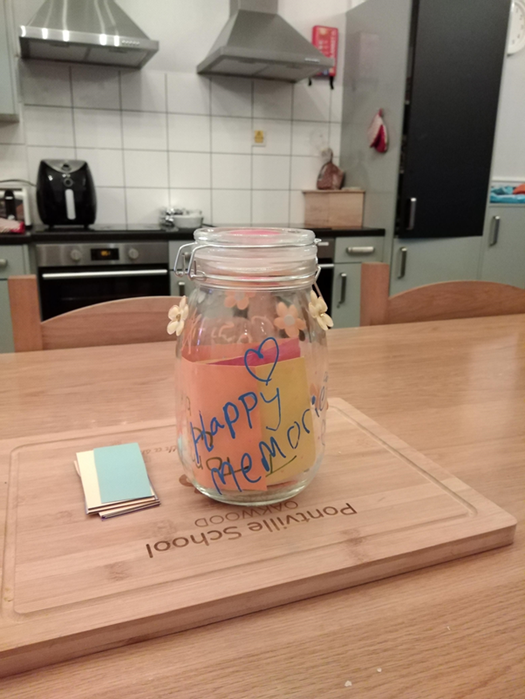 Thought jar for Children's Mental Health Week
First virtual Parent Voice Group 
This week saw the first virtual Parent Voice Group. The lockdown restrictions have meant that it has been difficult to meet parents and carers – usually, during events throughout the year, we would've met and chatted.
Organised by Family Liaison Officer, Sarah Morrin, and Assistant Head Teacher, Loree Smith, the morning was a great success and the group is meeting regularly during the term with the addition of virtual coffee mornings booked in for KS3, KS4, and 16 to 19. It has been a great way to stay connected.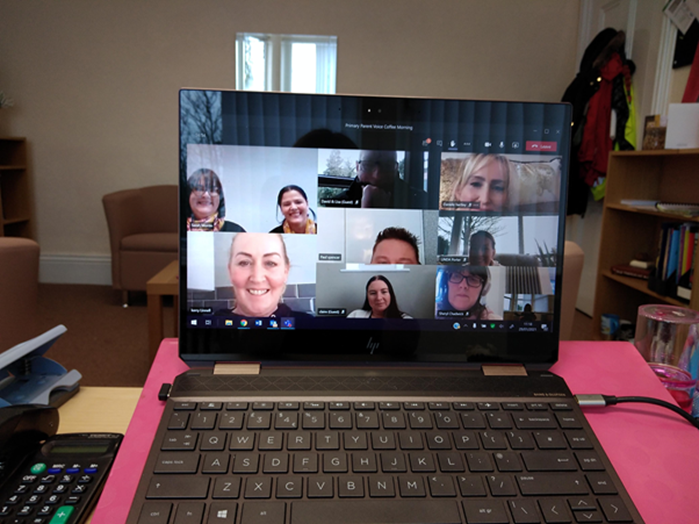 Virtual parent voice group.
Science success
Science Lead, Eddie Wishart has been celebrating the achievement of pupils, Thomas, Georgia, Joseph, and Kai
He also gave praise to the following members of staff. HLTA, Craig Broadbent, TAs, Dominic Cummings, and Jen Nickeas.
Matte's in demand 
Last week,  Matte the dog had another busy week with some new and regular faces.  He is so much in demand that there is a fortnightly booking system as there are not enough hours in the day!
Class celebrations   
4C has been working towards their functional skills qualifications. Pupils, Harry, and Kalel have successfully passed speaking and listening, while Alfie and Megan have successfully gained the whole E2 qualification (speaking and listening, reading, and writing). A fantastic achievement – well done!
TA, Emily Locke shares some news that has been celebrated. P2 had a lovely morning on Thoughtful Thursday whilst completing activities. The pupils have been writing kind things about friends so they have something to make them smile when they don't feel so good. All of P2 are so kind to each other, it's so wonderful to see.  
Maths Teacher, Nicola Garland witnessed some great classwork from 4B who have been learning about percentages. Pupil, Thomas gave an excellent explanation to the class, John was sharing Scooby Snacks between Shaggy and Scooby – ensuring they have 50% each and Owen even wanted to work into break time to finish his task! Well done everyone!
Another Maths Teacher, Jeremy Birkett also has some great news to share. Pupil George of 4D completed 14 questions on solving equations of which some were quite challenging.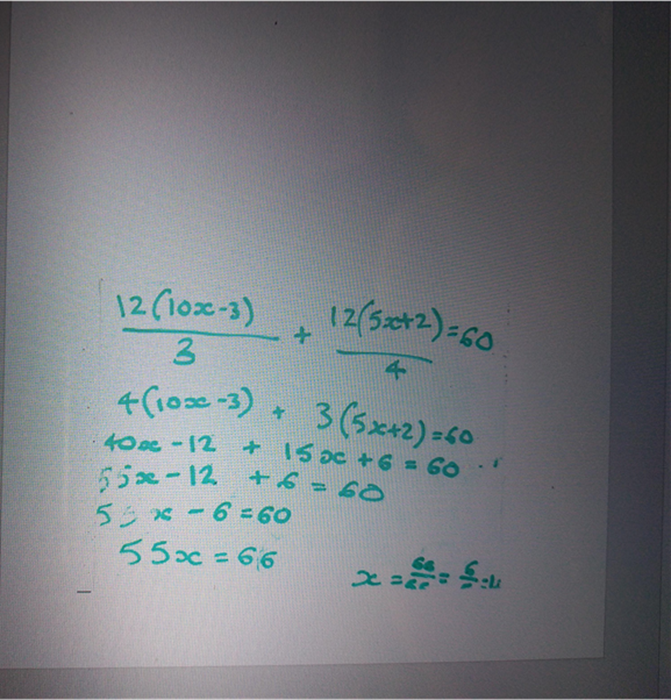 Nurture Teacher, Claire Newby celebrated 3Cs work in geography and science. They opened their travel agency for geography where pupils, David and Gabriella booked themselves a holiday.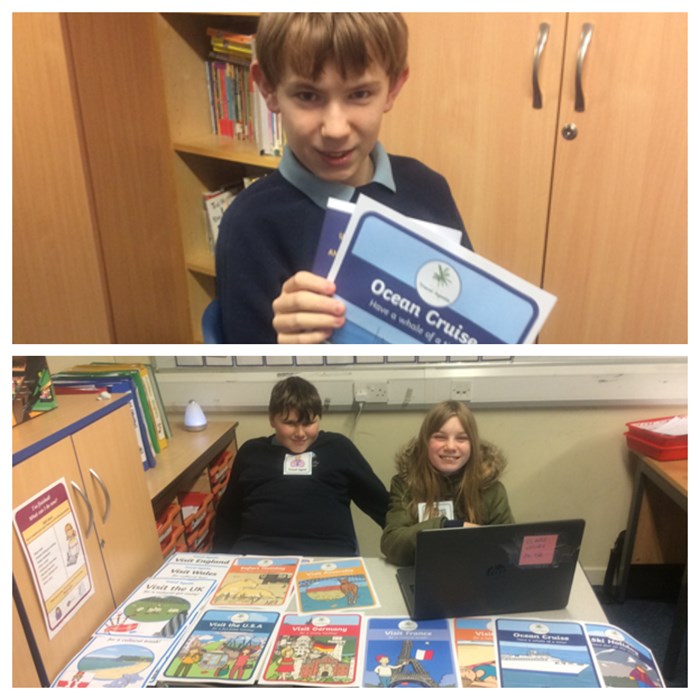 Pupils set up their own travel agency.
Staying with nurture class, in science, they made bath bombs and watched how they turned from a solid to a liquid and a gas when placed in water. David was impressed at how fizzy they were and was concerned that they might set off the smoke alarm with the gases but was reassured by staff. He ended the experiment by jumping up and down and saying "I love this!"
Another celebration took place in 3C where Jak passed maths Entry Level 1.
Elsewhere, another pupil, Michael,  has emailed in photographs of him cooking independently at home for his BTEC Home Cooking Skills qualification. Well done Michael.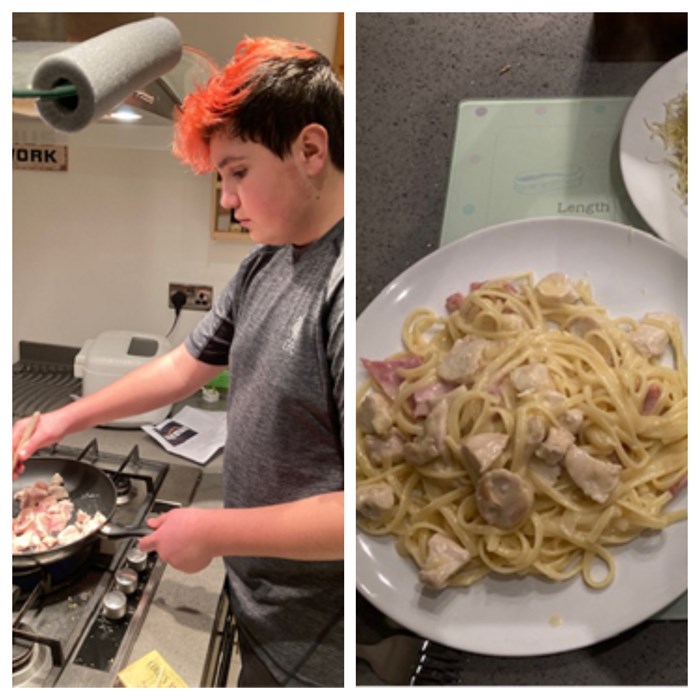 Michael cooks up a storm!
Stars of the Week
Superstars of the week included:
KS2- Meish, KS3- Liam, KS4- Tom
Class of the week – 3B
Well done everyone – another amazing week!