News
Pontville Blog 142: A week of learning, exploring and fun!
29 January 2021
Pupils and staff from Pontville School have enjoyed another week of learning whilst exploring, working together, and having fun.
Head Teacher, Justine Sims shares the latest goings-on at the school.
Face masks
This week saw the arrival of our very own Pontville masks – a great idea by the Engagement Group Reps.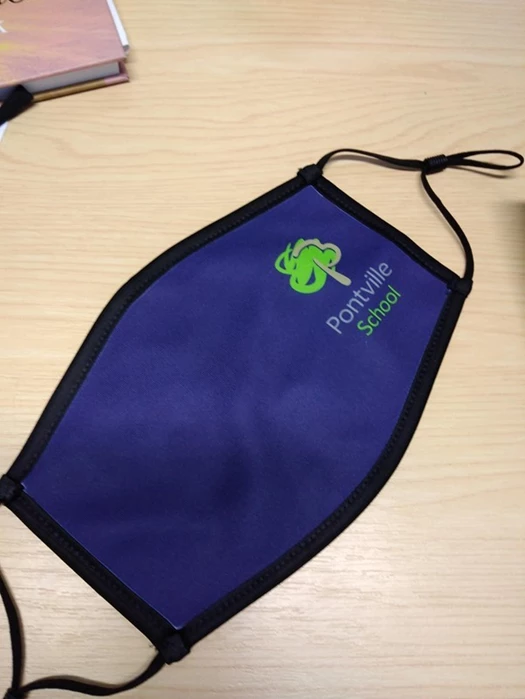 Pontville design their very own face mask.
Art attack  
Pupils in class P3 from the primary provision have been working on their gallery for the Rebels Topic. They have made a collaborative painting in the style of Wassily Kandisky.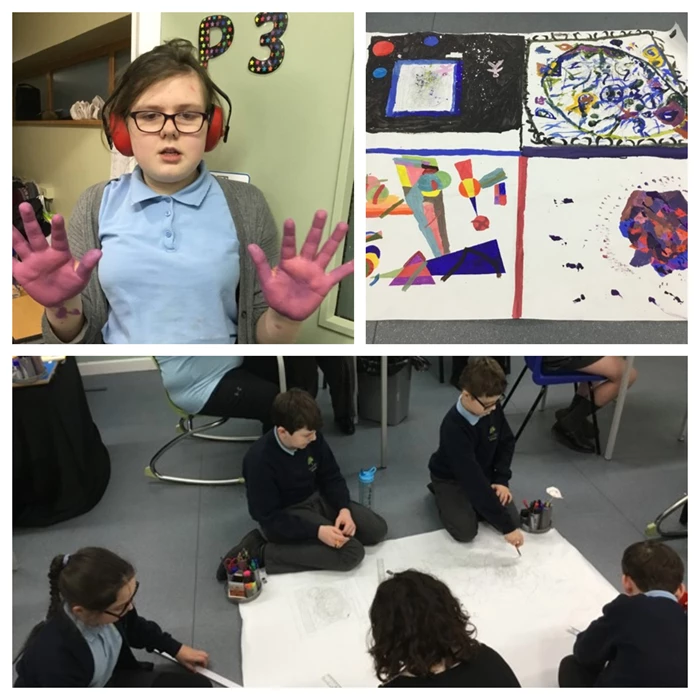 Budding artists roll their sleeves up.
Lego Therapy  
Speech and Language Therapist, Rebecca Jackson has been working with pupils, Joel, Georgie, and Elliott, who have been working together and striking up a friendship. They enjoyed taking on the the roles of Architect, Supplier, and Builder for a Lego building exercise, where they had listen to each other, give directions and follow directions. They worked as a team helping one another through encouragement, compromise and of course having fun.
The school's four-legged friend, Matte,  has been booked up with visits – it was telling that it all got too tiring when he took some time out for a snooze! 
Energised with exercise 
Class 3A created some artistic gymnastics sequences, including front support, dish, arch & back support shapes.
3C have been learning about fitness. They led parts of their own warm-up & took part in a yoga and meditation activity which they found very relaxing. Pupil, Jak said that 'it really worked' and that he could do it at home when he felt stressed. Madison and Chloe demonstrated outstanding balance when they completed the story test lasting over a minute.
3F, 3B & 3D have been working on the drop shot in badminton and used this skill to outwit each other in-game situations. Elliott & Levi both got extra points for excellent performance and attitude in badminton.
In 3E, they also played badminton. Although finding it tricky initially and wanting to give up, Billy showed resilience and saw the whole game through to the end. Matthew also showed good sportsmanship when he could see Billy was struggling.
16-19 Centre 
The students have been working on developing their independent living skills. Student, Summer spent the morning cooking lunch for herself and her boyfriend Brooklyn. She served up sausages, mash, peas, and onion gravy – yum yum!  You can see from Brooklyn's empty plate just how well she did, while Damien and Tom have been learning how to do their laundry and ironing.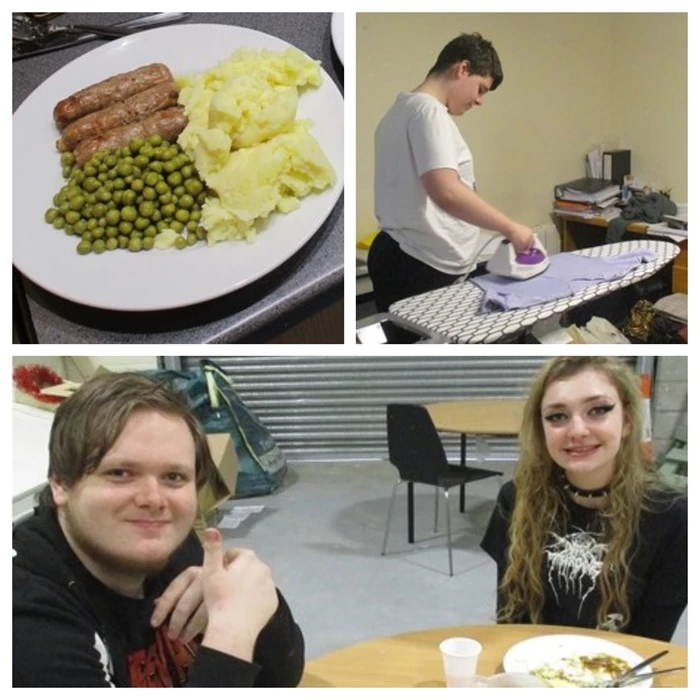 Pupils practice their independent living schools.
Elsewhere at the centre, students and staff have been busy working as a team to get the new hub ready. Everyone is looking forward to the new space which will be an extension to the Snack Shack.  
Well done everyone!