News
Fundraising fun at Lakeside
22 April 2021
Throughout the month of March, pupils and staff from Lakeside School took part in a 'Walk for the Community' to raise money for their local community.
Organised by Holly Class' Teacher, Gemma Sans, the school community aimed to walk a minimum of 2000 steps during planned activities. Week one of the challenge saw pupils and staff take part in an obstacle that provided a lot of fun and laughs where quickly, the steps added up. 
During weeks two and three, individual classes took part in planned activities.  Oak Class enjoyed their fitness, yoga, and relaxation sessions, while Cedar Class took inspiration from their learning about Ancient Greeks to learn a folk dance.  Maple Class enjoyed an extra football game, Willow Class hid their steps in a giant game of hide and seek,  and Holly went noodles with "Go Noodle".  The final week of the challenge ended with an Easter Egg Hunt – Yum!
During School Council discussions, pupils decided to use the money raised to create a well-being hamper for Hurst Park Care Home residents, who the children had visited previously. The pack will include self-care items and delicious food, which pupils and staff hope to bring a smile to the faces of residents.  
The fun challenge has been inspiring to everyone, and it inadvertently improved the fitness levels of many. The school community looks forward to raising more money for great causes during the summer term.
A big well done to everyone!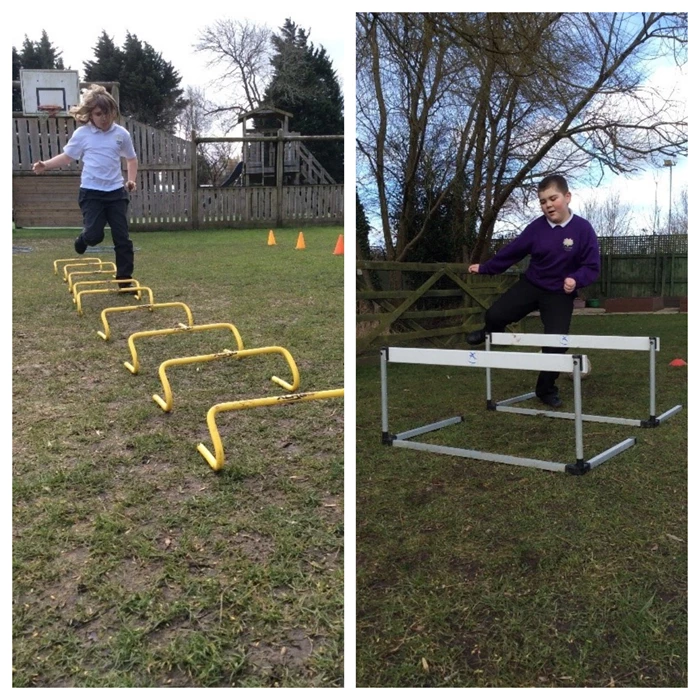 Pupils take part in obstacle course as part of 'Walk for Community' challenge