News
Jackie Groenen officially opens Cruyff Court
04 October 2021
Pupils, parents and staff from Cumberland School welcomed a football star to officially open their 'Special Cruyff Courts,' developed in partnership by Johan Cruyff Foundation.
The Foundation has been creating spaces for young people called Cruyff Courts for almost 25 years.
These spaces enable children and young people to practice a variety of sports in a safe and inclusive environment.
On Wednesday, Jackie Groenen, Manchester United Woman's star and Johan Cruyff Foundation's Ambassador, attended Cumberland School to officially open the Court. The footballer took the opportunity to try out the pitch by playing a friendly and took the time to teach pupils some tricks to up their game. Jackie was also left speechless when the court was unveiled in her name. 
Commenting on the opening Jackie said:
"In particular, the enthusiasm of children when they are given the opportunity to exercise and play sports together, is extremely contagious and motivating. I wish everyone to enjoy sports as much as I do! I am delighted to have my own Special Cruyff Court."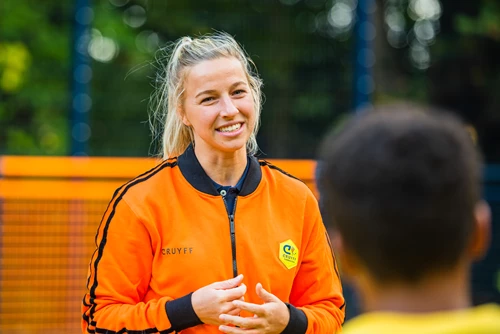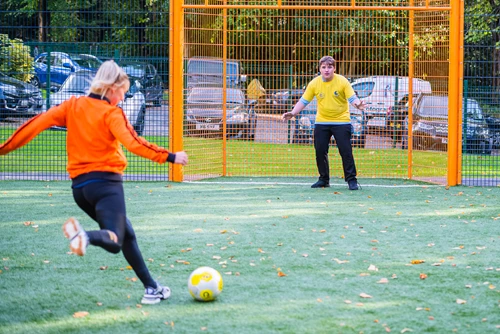 Trying out the court with pupils
Cumberland School's Head Teacher, Chris Newiss commented:
'The addition of the Cruyff Special School Court has made an incredible difference to the pupils at Cumberland School. Giving them access to a state-of-the-art playing surface has encouraged participation in sport at the school for both boys and girls and supported us in encouraging healthy lifestyles. The main benefit for our pupils, however, has been the team spirit, sense of mutual support and respect the court has allowed us to build. Young people who would previously not have had the confidence to join a school team or break time session are now actively encouraged to join by their peers. The difference this fabulous resource has made has been massive.'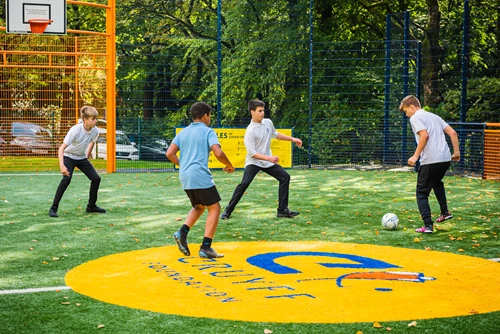 Pupils put their skills into practice
Niels Meijer, director of the Cruyff Foundation commented:
'With this Special Cruyff Court, space is created for the children of this school. Space to sport and play. Space to grow. Space to make friends. Space to be active and improve physical and mental health. Nowadays this is more important than ever. We want to thank players of People's Postcode Lottery who support courts like this.'
Phil Jones, CEO of Witherslack Group commented: 
'We have immense pride in working in partnership with the Cruyff Foundation to create amazing spaces for our young people.  The Cruyff court at our Cumberland School is simply world class facility and has made such a positive impact for both pupils and staff.   The difference it has made was particularly illustrated throughout the early stages of the pandemic. When our schools were asked to stay open the courts played a huge part in both ensuring the wellbeing of our school community, as well as offering much needed fun and enjoyment.'
Our ambition is to continue our work with the Cruyff Foundation to create even more amazing courts, with developments in the North East, North Yorkshire, Cumbria and the South East already well advanced.  
This is another great example of how pupils across our Group are provided with unique opportunities to inspire them to try new activities and build interests.
A truly amazing day and a big well done to everyone involved!  
Read about the opening of Pontville School's Cruyff Court with Virgil van Dijk here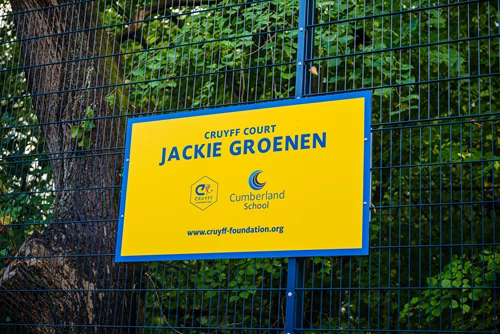 The Cruyff Court has been named in honour of Jackie