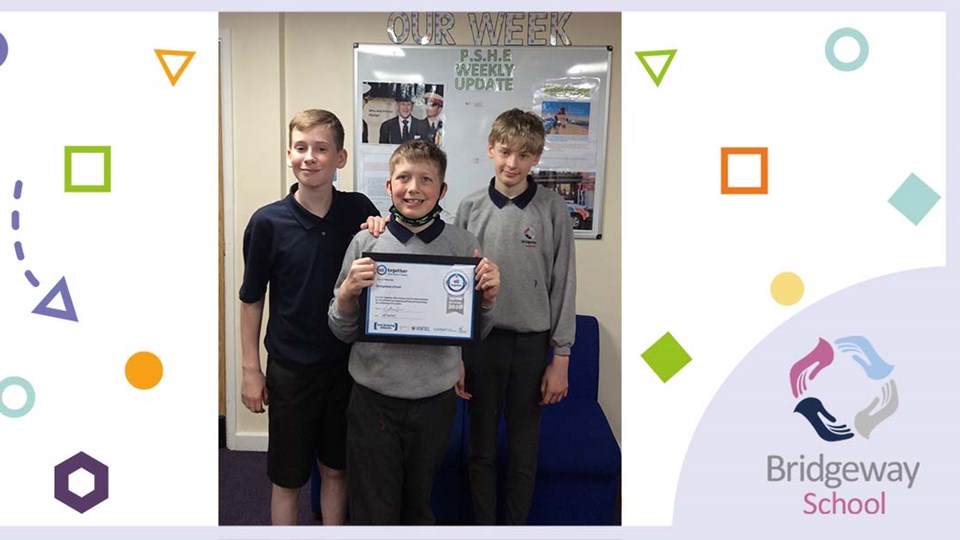 News
Silver Status celebrated
30 April 2021
Pupils and staff from Bridgeway School were delighted with the announcement that they have achieved Silver Status from the Anti-Bullying Alliance's (ABA) All Together programme.
The All Together Programme is ABA's whole-school anti-bullying programme for schools in England. The overall aim of the programme is to establish All Together Schools. These are schools that have evidenced their work to reduce bullying of all pupils. The programme includes a special focus on reducing bullying of disabled children and those with SEN, but aims to reduce bullying of all children and young people.
Over the past year, Bridgeway School's pastoral team have been working to collect evidence to support their application for the award. The evidence-based programme is proven to reduce bullying and improve wellbeing in schools. It also supports establishments to make whole-school changes, review practice, set goals, seek evidence, and improve practice. 
Sue, Gill, Head Teacher, commented: 
"We are delighted that we have received the Silver Award. Our pastoral team has worked together to collect evidence and are planning how we achieve the Gold Status."
Well done everyone!