16 February 2023
Staff from Bridgeway School recently arranged a Dyson STEM Day, with the help of the James Dyson Foundation and one of their engineering boxes.
Pupils unpacked the box to discover a Dyson Animal vacuum cleaner and tools to dismantle it to learn how it has been engineered. Other than having fun stripping the machine back to basics, there were many opportunities to learn about some of the foundation's other focus areas, such as careers and growth mindset.
Teacher Laurence Harwood shares more detail:
"With the UK facing a major shortfall in the number of engineers we learned about the job roles of different types of engineers, their pay and conditions and the routes into engineering careers. The pupils also enjoyed their own independent research into cool products which have been engineered to solve a problem or a need, such as the laser guided pizza cutter to get even slices or the magnetic wrist holder to hold screws and washers during DIY."
He continued: 
"Before we started with the practical aspect of the day the pupils learned all about James Dyson himself, one of Britain's most successful engineers and how he applied the growth mind-set principles, which we are currently learning about in ready to learn sessions in the morning. Did you know he made over a thousand prototypes of his bag less vacuum before it was production ready?"
He concluded with the highlight of the day:  
"Pupils enjoyed taking apart the vaccum, seeing how all the parts had been designed to make the final product and then just as importantly, they managed to put it back together and upon testing it worked as seamlessly as it did before being dismantled."
Well done, everyone.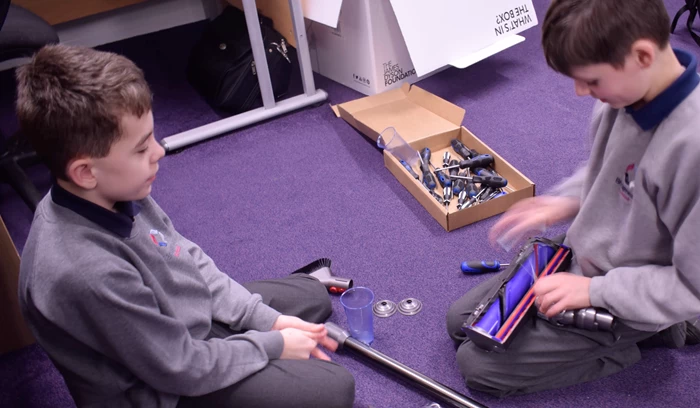 Pupils dismantle Animal Dyson vacuum during Dyson STEM Day