25 November 2021
In the lead-up to Remembrance Day, pupils and staff from Bridgeway School have been learning about its significance. Memorial Day, which has been observed since the end of the First World War, remembers members of the armed forces who have died in the line of duty.
This year, the school marked the fallen during their poignant Remembrance Day event in the schoolyard.
Deputy Head Teacher, Daniel Flanagan, Outdoor Education Teacher, Paul Shipley, and TAs Anthony Maddox and Kate Roberts are all veterans who served in the active military, naval, or air service were incredibly proud of how everyone observed the day. 
Daniel led assemblies during the week and gave a first-hand account of his days in the army, and explained the meaning behind the poppy as well as how and why people pay their respects.
As the 11th hour approached, pupils and staff met on the schoolyard for a reading of an extract from the poem 'For The Fallen' by Laurence Binyon. Matthew Palmer, Pastoral Assistant saluted with a commendable playing of 'The Last Post'.
Teacher, Laurence Harwood commented:
"The one-minute silence was impeccably observed. Seeing our young people showing empathy, was extremely powerful and a reminder of how those in our care progress not only academically but socially too. Our pupils received admirable compliments from members of the public, including numerous veterans who were similarly marking the day at Saint Saviours Church opposite the school."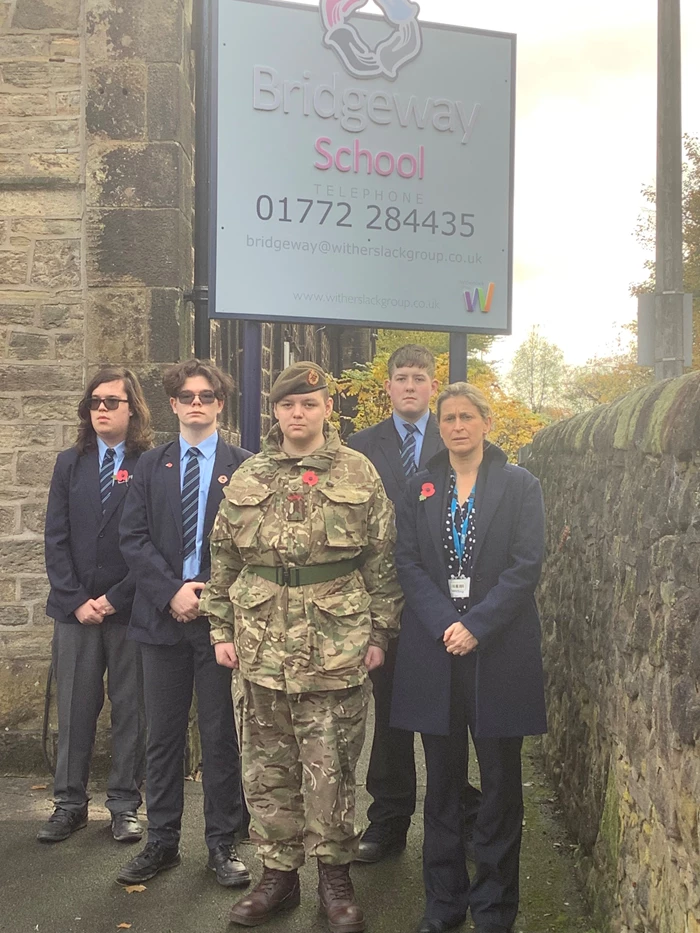 Bridgeway School observe one-minute silence for Remembrance Day