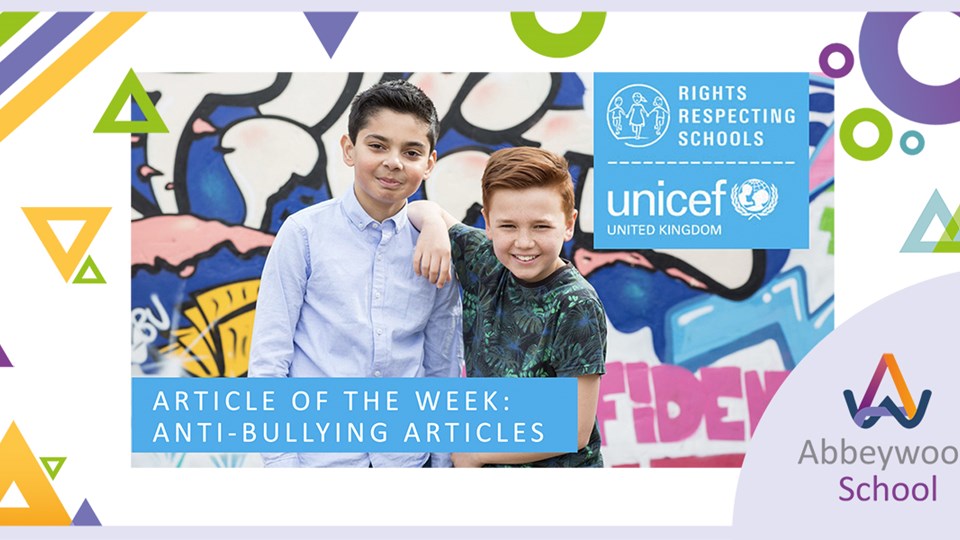 11 December 2020
Pupils and staff from Abbeywood School are working towards the Silver Award for the Rights Respecting School Award from Unicef. The award puts children's rights at the heart of schools in the UK and recognises a school's achievement in putting the United Nations Convention on the Rights of the Child into practice within the school and beyond.
Unicef works with schools in the UK to create safe and inspiring places to learn, where children are respected, their talents are nurtured and they can thrive. The Rights Respecting Schools Award embeds these values in daily school life and gives children the best chance to lead happy, healthy lives and to be responsible, active citizens.
To achieve the status, the school needs to complete workaround anti-bullying, including:
1. Involving parents and carers more in understanding children's rights and helping children to access their rights. 
2. Continuing with pupil's voice, especially in teaching, learning, and assessment. 
3. Continue to link our work to the UN convention on the rights of the child.
4. Launch the ABCDE of Rights
5. Develop or Rights Respecting classroom
Pastoral Care Manager, Rob Hodgson will be inviting parents and carers to an online meeting to talk about the Rights Respecting School journey at Abbeywood. We can't wait to hear more about their journey and more about the updates relating to the award. 
Well done everyone.