News
A tantalising taste of the exotic
11 February 2022
Staff from Bridgeway School strive to provide pupils with new life experiences and teach them knowledge and skills outside the curriculum. The Friday Enrichment program was introduced as this provides pupils with a comprehensive range of life skills activities.
Teacher, Laurence Harwood explains this in more detail:
"Our latest project for Friday Enrichment has been focused on introducing a session after lunch, where pupils get the opportunity to learn about an aspect of either PSHE Personal, social, health, and economic (PSHE) education or SMSC (spiritual, moral, social, and cultural development). In the first full week back in school, they have been enjoying learning about the history and origins of the food they eat and tasting foods they may not otherwise encounter in their day-to-day life."
He continued: 
"The sessions are run by Charlotte Murphy, PSHE Lead, and so far young people have had a taste of pineapple, mango, passion fruit, coconut, and lychee. The pupils were astounded to learn that it takes a pineapple three years to reach maturity and that the mango is a symbol of love in India. The aim of the food tasting sessions also helps to develop the individual's sensory tolerance with the taste, texture, and smell of the food they are studying. In future weeks, the end of lunchtime sessions will focus on the following areas: music from around the world, brainteasers and riddles, LGBTQ+ History month, and celebrating women in science."
A great start to the new year with some very interesting subjects for pupils to get involved in.
Well done!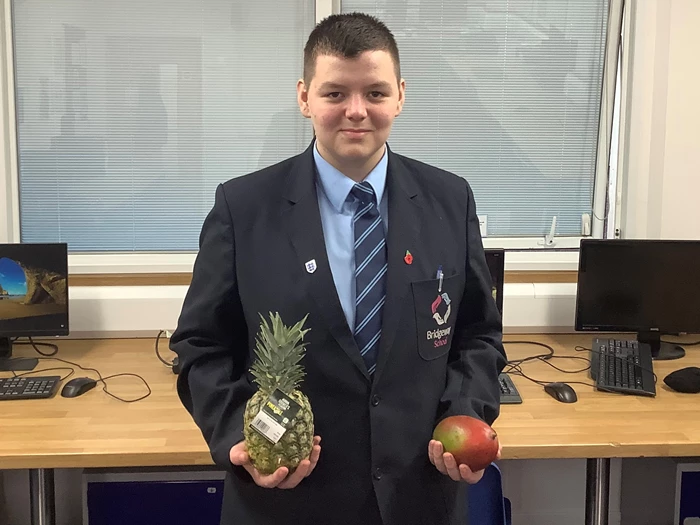 Pupils enjoy tantalising tastes of paradise.