11 March 2022
Pupils and staff from Chilworth House School recently visited the ISKCON Bhaktivedanta Manor, home to the Hare Krishna Temple.
During the visit, pupils explored the new building Haveli which holds weddings and other celebrations, and were thrilled to visit the Radharani bakery where they sampled delicious Indian sweet and savoury treats such as kachauri, laddoo and also more familiar favourites such as pizza and chips!
To add to the highlights of the trip, they visited the shrine and dressed up in saris and traditional clothing. They also joined the congregation to take part in prayers and singing, as well as a little chanting which brought about a calmness amongst the group. To finish the day of learning and exploring they were delighted to feed the resident cows and enjoyed a cart ride, whilst being given an exclusive tour of the grounds.
The day was a great opportunity for pupils to learn about the religion and was thoroughly enjoyed by everyone.
Kumari Parul, Teaching Assistant, who organised the visit commented:
"A big thanks to all the community members of ISKCON Bhaktivedanta Manor who made us feel so welcome during our visit."
One of the pupils commented:
"This was the best day out we have ever had… thank you Ms. Parul for organising it."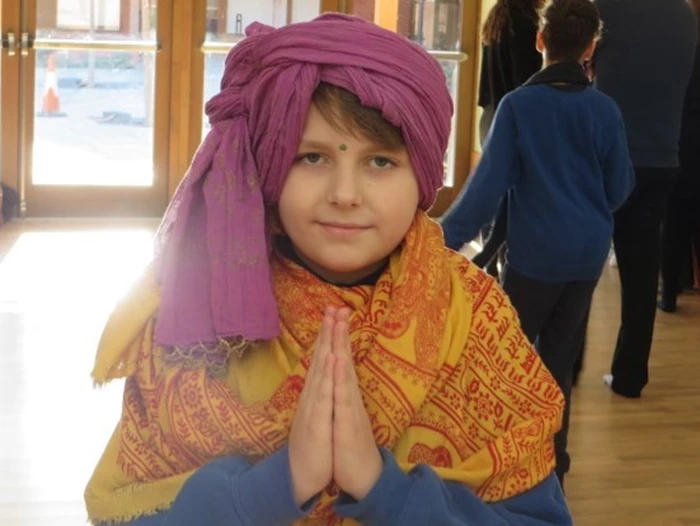 Pupils and staff enjoy a trip to a temple