News
Staff celebrate milestone in ADHD programme
18 June 2021
Staff across our Group came together to take part in a virtual event celebrating their achievements in reaching key milestones for the ADHD Advanced Practitioner programme.
Staff have embarked upon the advanced practitioner programme, a three-year course endorsed by the ADHD Foundation, where staff start as Practitioners then go onto becoming Coaches and finally onto Advanced Leaders.
The coveted status' has been achieved by individuals for their settings by developing an evidenced-based portfolio that showcases the impact of their work. Claire Lammas, Occupational Therapist from the Therapy Team, Claire Traynor, Head Teacher of Hall Cliffe Primary School, Charles Cropper, Head of Vocational Centre of Cumberland School and Sally-Anne Lee, TA of Meadow View Learning Centre were all thrilled in reaching the Coach status, while others celebrated their achievement in reaching Practitioner status'. This included:
Amy Rogerson, Senior Occupational Therapist
Kay Brogan –Moore, TA, Cumberland School
Kumari Parul, HLTA, Chilworth House School
Lee Doherty,  Key Stage 4 Manager, Pontville School
Lily l'Anson, Teacher, Hall Cliffe School
Lorre Smith, Assistant Headteacher and Primary Lead
Lynne Morris, Assistant Headteacher, and Primary Lead, Pontville School
Natalie Sheridan, TA, Meadow View Learning Centre
Paul Rossington, Key Stage 4/5 Manager, Pontville School
Shirley Wilson, Teacher/ SENCO Oversands School
Tony Singleton, Quality Improvement Lead, Cedar House School
As part of the programme, staff were required to complete a case study on a young person with ADHD and focus on five areas including:  
Classroom environment 
Use of assisted technology and how it supports learning
Lesson planning 
Self-regulating techniques 
Celebrating Neurodiversity
The completed portfolios were recently assessed and the level of detail, analysis, and background demonstrated the impact the programme is having on the pupils, staff, and the wider school community. It also allowed them to evaluate current practice, implement new strategies and develop skills and knowledge on how they can adapt their approaches and environment to support pupils with ADHD. 
Colin Foley, National Director of Training over at The ADHD Foundation presented each member of staff with their award and provided individual feedback, highlighting success and good practice.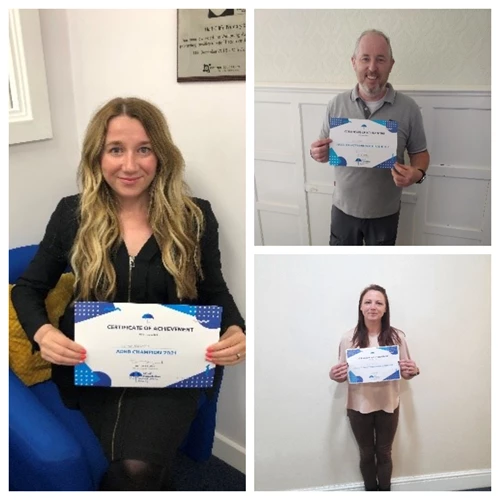 Staff members proudly show-off certificates