News
National Careers Week
25 March 2022
Recently, schools across our Group celebrated National Careers Week (NCW), a celebration of careers guidance and free resources in education across the UK. The event provides young people with advice and support in helping them choose their career on leaving full-time education.
Broadbeck Learning Centre
During the week, pupils from Broadbeck Learning Centre were visited by the Army and C & K Careers and enjoyed learning about the various roles available, and how these could be accessed. They also got the opportunity to speak to advisors on a one-to-one basis gaining knowledge and understanding to help them plan for their future career goals.
Hall Cliffe School
Over at Hall Cliffe School, Key Stage 4 pupils warmly welcomed speakers from various businesses to talk about their professions and provide insight into their roles. The roles varied including a Premiership referee, a former builder, a personal trainer and mental health coach, a DJ, and the owner of a caravan and motorhome service/repair business. The takeaway from each visitor was the importance of working hard and following your dreams.
Pontville School
At Pontville School, pupils and staff held their first Careers Fair organised by PHSE Lead Gemma Sillett, who has detailed the week's event. 
"Personal Development lessons have been focusing on careers, with pupils being encouraged to think about their skills, qualities, and interests. This supports them in being able to think about possible careers and job opportunities in the future."
"Employers and educational establishments from a variety of places visited the school to give free advice, these included Joe's Tree Care, The Royal Navy, The British Army, The Webinar Vet, Ormskirk Library and Lancashire Fire and Rescue, Southport/KGV College, St Helen's College, Edge Hill University and The Legacy Project."
"Pupils in primary right through to 16-19 Centre attended the event and had the opportunity to talk to the employers and educational establishments, as well as try some careers-related activities, such as guess the company logo, guess the celebrity apprentice and guess staffs previous jobs. Pupils spoke very positively of the event, and likewise, attendees to the event spoke highly of the pupils."
Well done everyone for a great week!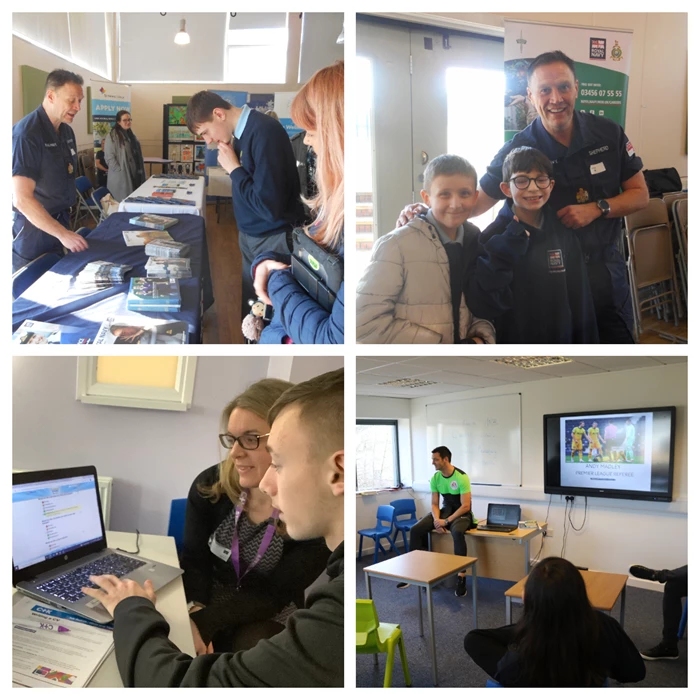 Pupils and staff celebrate National Careers Week