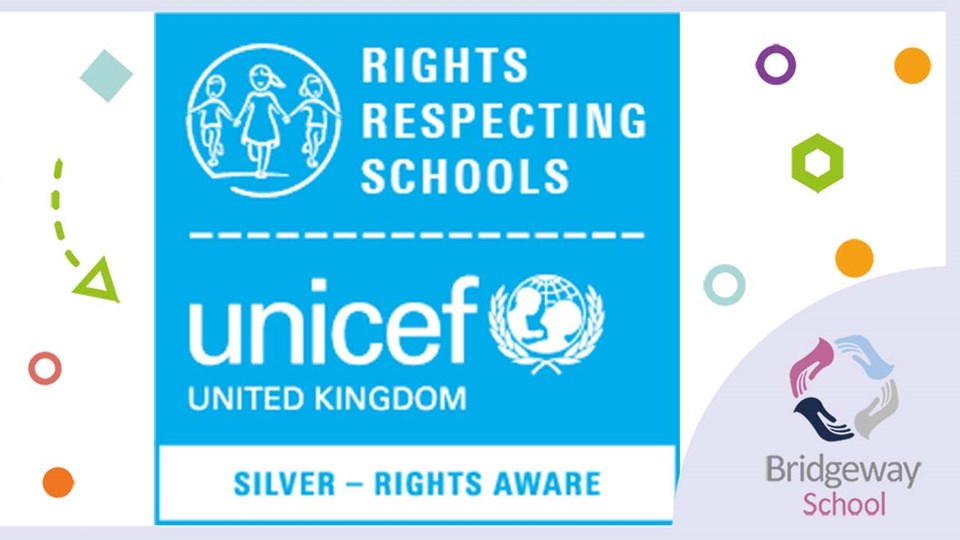 News
Bridgeway celebrate Silver Award
22 April 2022
Pupils and staff from Bridgeway School were delighted to learn that they have been awarded the Rights Respecting School Silver Award from Unicef. The award puts children's right at the heart of schools in the UK and recognises a school's achievement in putting the United Nations Convention on the Rights of the Child (UNCRC) into practice within the school and beyond.
The staff at Bridgeway have been working behind the scenes to gather evidence of everything that they do to promote children's rights. Pupils have also contributed enormously to this superb achievement through their regular learning and work on rights, attendance of assemblies, and participation in school council meetings and events.   
Head Teacher, Sue Gill commented:
"I am absolutely thrilled that we have received the Silver award. Teacher, Charlotte Murphy and her team have worked very hard to achieve this. The key element to it all of this is that Right Respecting Schools is woven into everything we do within school. I am really proud of the staff team and all pupils. The next step for us is the Gold Award, which we hope to have achieved by the end of 2023 and will solidify our commitment to the UN Convention on the Rights of the Child."
Martin Russell of UNICEF commented:
"It is clear to see that there are very positive relationships between staff and pupils. The young people I spoke to were fabulous and have a good concept, and understanding of rights."
 Well done everyone!